In the last year, Leicester based Apocraphe has made more than a bit of a name for himself. With the release of 'The many lives of Apoc the Main Rock' and his new EP 'Long Don Spilverbs' making noise up and down the Country, Apocraphe has quickly etched his name into the "UK Hip Hop" scene.
Not content with just releasing his own material, Apocraphe has expanded his Main Rock Records Label to include releases from the likes of Cappo, Baron Samedi, Lady Paradox, Meline Interlec, DJ Dise and DJ Casio, all coming soon.
So, as they say – watch this space….
First of all, introduce yourself. Where you from and who's in your crew?
Apocraphe the Unstoppable Don, representing for Main Rock Records – an ever-expanding family consisting at the moment of myself, Baron Samedi, Cappo in a visiting cousin capacity, Lady Paradox, Meline Interlec, DJ Dise, DJ Casio, and the ever-important Prisoner of His Majesty handling design, along side Gravity on the web work.
How would you describe your first EP/12" for all those wanting to check it out?
A solid chunk of development – a banger, a life-story, and a concept – with incredible production from the Labratz, and Scorz-zay-zee and Scalpels blessing both me and the listeners ears with their verses on 'Mic Life'. 'Butterfly Life' is a bit of a story of getting into graf, and through it into hiphop, and 'Namedrops' was just a concept tune really – me propsing a few of the crews working hard in the UK, but hiding the names to test peeps a bit harder.
You're working with quite a few established artists (Cappo, Scorzayzee etc) how did that come about?
With all the people I work with it's about being friends first – Nottingham's pretty damn close to Leicester, so when they've come here or I've gone there we've ended up hooking up and just generally vibing. Once I've clicked with someone, working together sort of comes naturally, especially if we each feel what the other's doing.
What's the scene like in Leicester? And what acts should we be checking for?

Leicester's got an interesting scene – there's a lot of different styles and ideas floating about – sometimes that leads to confrontations and clashes, but more often it leads to some really varied and impressive material appearing. Meline Interlec are holding down the more abstract/ spoken-word side of things – John Berkavitch is an incredible lyricist – his lines blow me away – look out for their album later in the year, plus associates like Hiveworm Eschaton (whose rhymes inspired me to start writing back in the day) and Kidabra are really doing their thing and doing it well. My girl Lady Paradox is another one to watch for – she's gonna be blowing some minds when she releases some material later in the year – I really think she's the best female emcee in this country right now. Outside of Main Rock, Eyezofman and A-bomb are making moves with an EP the really impressed me, alongside the rest of their crew Speech Ferapy, and I'm sure you'll be seeing plenty more from them very soon. My man Universon, who's just filmed my video for me is a really hot lyricist, and although he's concentrating on his filming and such like mainly at the moment will be doing some dope tunes for sure when he gets time to spend on that side of things. Plus crews like FBI, who were always there for me when I first started rhyming, kNRT, DJ Yess whose working on a new project at the moment, Double-edged Sword, Menace – a whole host of people with a lot of talent who are working hard, and showing a lot of skills. I've also gotta send love to the graf scene – I don't write any more, and ain't done for years, but the scene's plenty healthy, and there's been a lot of the younger writers going all out hardcore, so props to them, and of course, always props to FYS who've smashed Leicester for many years.
You've just released your next EP, tell me a bit about that.
The new ep's a six-tracker called 'Long Don Spilverbs'. Again I've tried to supply a real variety of content and style to it – story telling, politics, concepts, some humour and some straight-out skills displaying. Plus with guest spots from Scorz-zay-zee, Cappo, and Baron Samedi, plus some incredible production from Cappo, Dise (my main producer, and a name to watch out for believe!) Mr Serve and Baron Samedi. I'm really pleased with it – I feel it's a massive evolution from the first 12", and another step closer to where I want to be as an artist and lyricist.
How would you describe the state of the UK scene? Do you think it's possible that a UK Hip Hop act can really break through but still keep it's credibility?
I think the scene isn't really a scene, any more than Urban music is one music form – I think there are lots of little sub-cultures of a sub-culture whose lives and tastes do cross over, but don't always associate or connect, or even agree on things. Most broadly this seems to have been divided into this Black and White Hip Hop divide which is the stupidest thing I've heard in a long time, but something that yet again we've taken from the States I guess. There's a lot of talk of uniting and growing, but to be honest I don't know if that can fully happen with such fundamental differences between people, especially as Hip Hop heads by their very nature are generally rebellious and anti-authority – you start trying to lay down a structure and they are going to rebel against it, and if they aren't feeling something, most of them are gonna be pretty damn verbal in voicing that. With regard to a UK act breaking through and still keeping its credibility I don't really know – it depends what you mean by credibility. Acts like Paragon are doing something very different to what I'm doing, and something that certainly has more potential to appeal, at least more instantly and more accessibly, to the masses than my music, but that doesn't make it any less credible – just different.
"…Leicester's got an interesting scene – there's a lot of different styles and ideas floating about – sometimes that leads to confrontations and clashes, but more often it leads to some really varied and impressive material appearing…"
I think Hip Hop's changed a hell of a lot since when I first got into it, and that was only 1995, and I feel that it's changed even more in the last couple of years – we've seen really credible US acts getting high in the charts with good music alongside the normal commercial junk, and acts like Kanye West getting picked up by majors, with talks of the likes of Talib and Common to follow, the lines defining 'rap' and 'Hip Hop' as genres have blurred a lot. I feel like what I'm doing is never going to appeal to everyone involved in the culture, and that I have to carve my own niche, and build my own fan base of people feeling what I'm doing, like certain of the 'underground' US labels have done, but there's no reason why someone like Klashnekoff, or Paragon, or such like shouldn't receive mainstream success and still be doing what they're doing. To me people like that are very much the embodiment of what people want to hear from 'UK Urban' music at the moment, regardless of my hatred for that general labelling and it's degradation of Hip Hop culture, and not just the hardcore heads but general youths outside the culture – things change I guess, and you just have to live with that, rather than living in the past. I do what I do, and follow my path and my view of Hip Hop, and let others do their thing, and just try and build my own foundations.
What's in your stereo just now?
This week I have been mostly bumping Digital Underground 'Sex Packets' and a DJ Panic from the Molemen mix tape of loads of his material – oh and Nick Maxwell 'Adventures in Hip Hop volume 5'.
You recently had your Main Rock Records launch party, how did that go and who all performed?
Yeah, it was a real good night – basically I just invited a lot of friends to come perform and funded travel expenses, flyers, etc out of my own pocket, really just to put a party on for the scene that spawned me, know what I mean? We had DJ Dise, DJ Casio, John Berkavitch, Lady Paradox, a special guest appearance from Associated Minds from Wales, Baron Samedi, Scalpels, Big Trev's Notts Inna Nuttin', The Colony, Ironbridge and Cappo there with myself hosting and dropping odd tracks in between, plus All Torque (who John Berkavitch breaks for and have just become Midlands Champions) throwing down.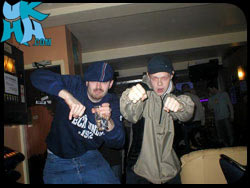 What's an Apocraphe gig like?
I hope the answer to that is intense. I'm told I bring a lot of presence to the stage, and that's certainly something I try to do. My rhymes have a lot of content with multi-syllable flows so I try and project, and clarify, plus I do perform – it ain't just getting up and rhyming, I try and bring a lot of emotion and movement into it where necessary to illustrate what I'm trying to get across to the audience.
Have you got any other big names lined up to work with?
There's plenty of people I'm hopefully going to be doing stuff with over the next year but until it happens I'm going to keep it all under wraps. Suffice to say most of the people I've worked with before I'm likely to work with again, and they'll be new faces mixed in with the familiar old ones!
Who would you most like to work with?
I was talking about this earlier today, and the answer'd have to be Aceyalone. His '97 album 'Book of Human Language' is my favourite album of all-time and a constant inspiration to me about how to approach this whole rhyme/Hip Hop game in a different and original style without getting too abstract or disappearing up your own arse.
Now, we first met about 4 or 5 years ago right? In Henry's Cellar Bar in Edinburgh where you got up on stage along side the then called Scotland Yard (now Yard Emcees) back then we just talked about tracks, you had none of the recognition you have now. How did you go about building your rep and getting your music out there?
Hard work – simple as! Just like we linked up, we talked and we gelled, so it was with a lot of the people I've worked with. I continued to write my solo material, and was part of a crew with Baron Samedi and Troy Scalpels (now just Scalpels) called The Ill Smith Estate, and although we never put anything out we recorded a lot of material, and did a lot of gigging, which gave me a real solid introduction to the industry, as well as a period of real skill-honing, working with two incredibly talented artists. We eventually decided to concentrate on our solo projects, although we remain tight, and I was already at that time working out the groundings for 'The Many Lives of Apoc the Main Rock'.
"…I'm told I bring a lot of presence to the stage, and that's certainly something I try to do…"
Through various nefarious means I gathered the cash together to record and release it, and really treated it as a water-tester – I understood one side of the game, and now wanted to get to grips with the industry so did everything myself, from pressing to distribution in order to understand everything that happened at each step. Around this time I knocked certain things on the head as well and decided to go a bit more onto the straight and narrow, and was working. Eventually I put together a good business plan based on the knowledge I'd gained from what I'd already done and been through and got a bank loan. Now I'm working, and running the label, have got distribution for all the label releases and I'm just continuing to try to build, not just for myself, but for all the Main Rock family as well. By the way – big up the Yard boys for me – some incredible emcees, and well safe lads too – I'd love to hook up with them fellas again some time.
Yes, you're right, the Yard Emcees are very talented. I'll tell them you're asking for them. What's your plans for the future of the label?
My EP's just dropping as we speak, Baron Samedi's 12" 'Theme Music" drops next month (and is gonna blow some minds believe!), then Cappo's new album 'Resilience' will drop a couple of months after that, then we've got the Meline Interlec album, with a DJ Dise mix CD of all exclusive beats, and some amazing guest appearances later on in the summer. After that it's a toss-up between a solo project from Lady Paradox, a joint project between me and her, or Baron Samedi's album which he's working on as we speak. Alongside those there are a couple of other potentials in the pipeline that I can't speak about yet, plus I'm about to start working on a concept album provisionally called 'Prison Earth' as soon as I can make a moments space in my schedule. Other than that I'll just be sitting around twiddling my thumbs all day of course….
How long have we been talking about doing a track together? A few years anyway, haha! I've got many artists that are up for this project I'm working on (Yard Emcees, Baptist, Eastborn, Respect BA, Pedigree Chumps, Roysta, Chubby Alcoholic, Major Threat, to name a few) so can I count you in?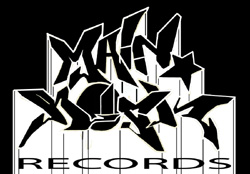 Haha, true say bro – no doubt, you can count me in – you never know, I might even come visit you up in Edinburgh as I've been saying I'll come back ever since the first time and never have, so you never know your luck!
Haha, that was a bit personal, probably not the sort of question to ask in an interview, but what the hell eh. Well bro, good luck with all your releases, I hope it all goes well for you. Any shout outs?
Far too many to really do – everyone whose name I've mentioned in this interview, Disorda and the whole Suspect Packages/Boom-box distribution HQ, Big Tony at Rustysnails.com, Mark at Headnod.com, Rob at Barerecords.com, all my friends and family – you know who you are, and you're too many to list by names, but I love you all – everyone supporting Main Rock, everyone making music they believe in whole-heartedly, anyone whose ever inspired anyone to act against injustice, and everyone opposing the madness that's going on in the world today. Peace.
– Mr Hiz