Asher D is well known for his high profile work with the So Solid Crew and for his numerous TV appearances which he has made since being a just a nipper. After some unfortunate jail time, he is back stronger than ever with his first feature film project and he briefly talked to ukhh.com's Pri and Freud's Marek to let us know what Bullet Boy is all about….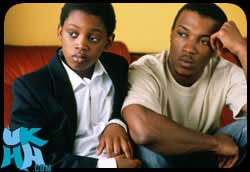 How would you describe the film Bullet Boy?
It's about a family. A mother. 2 brothers. The elder brother is released from prison and his main aim is to sort out a lot of problems. He just wants to go clear and go straight. A tit for tat cycle of violence starts and a gun comes into it. Him and his (12 year old) brother's lives collide. It's about what happens when a gun comes into play with kids.
How did you come across the script?
By meeting Saul (Dibb – the director). He approached me after seeing Storm Damage – a TV film I was in. He planned to approach me after that. I fell in love with it when I read it.
What was it about the script that appealed to you?
The way it dealt with gun culture. The general public only hear about Yardies and things and this film is about an average family. It shows that in different environments you make different choices. This is how you deal with it.
Tell us more about your character Ricky in the film Bullet Boy?
19 years old, very humble, very streetwise but humble. He's not aggressive, he's a sweet guy, sensitive. He faces a lot of peer pressure. Everyone expects him to confront people because of his background – he's not into it, which is hard.
"…It shows that in different environments you make different choices…"
Is there certain issues or aspects about your character that you can relate you?
Definitely. The whole thing about wanting to better yourself. I wanted to get back a lot of things I lost – in a positive way. In that way we are similar.
What was the hardest aspects when filming Bullet Boy?
The whole shoot really. It's a delicate subject matter. People would think we were out to glamorise gun crime – so it was hard to get people onside. There was a lot of police presence (not in a bad way) due to the guns and the location. There were a lot of compromises but we got there in the end.
Having featured in various popular series like The Bill , Holby City and the television film Storm Damage how did your role in Bullet Boy differ?
First of all they were all TV, this is a film, it's nationwide and more people should hear about it. The roles are completely different too. This one was a bit closer to my own life.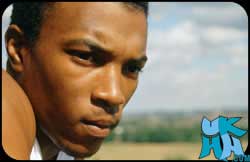 How was it like like working alongside your co-stars Clare Perkins, Curtis Walker and Leon Black?
It was great. I had never worked with them but knew of them. We had a lot of fun due to the way we shot the film. We improvised a lot. A lot of our own lives are in there. It was hilarious. Intense.
Having ventured into acting is this something you would like to focus on more now?
Definitely. At the moment – there's not much choice! Film has taken over my life and there is a lot more work in the pipeline. If all goes to plan then it's a career and I'll be able to release some music when I get a chance.
As both a renowned artist and actor – Do you have a preference – music or acting?
No not at all. The biggest battle is making the two work for each other. No-ones done that really. Apart from Will Smith, 2Pac and Mos Def.
"…Film has taken over my life and there is a lot more work in the pipeline…"
In terms of creativity what is more demanding music or acting?
Acting really. Only cos with music it was always autobiographical – always about my experiences – never anyone else's problem. Acting involves research. Putting yourself in another persons shoes is demanding.
Do you have future plans within music?
Yeah, I plan to release an album when's there's a slot. Looks like the end of the year. It's 80% complete. Nearly there.
Is there anything we can look forward to seeing or hearing from you in soon?
Goal! And the untitled 50 Cent project. I start shooting that in the middle of April. I'm the only English actor in it. I'm playing an American.
Any shouts or tips you want to give to the ukhh.com readers?
Yeah, keep making music. Keep doing your thing, whatever it is. Make sure it's positive. And be real.
Props to Marek at Freud for the hook up and Vivid for the pictures.
Bullet Boy is on nationwide general release from April 8th 2005. Check the trailer and official website for further details – its heavy.
Pri & Marek