Berkshire based emphatic rap-soulstress Deyah (previously known as the NoNameDisciple) launches her second EP 'Care City', as a debut release on her own imprint High Mileage, Low Life. The 7 tracks confessional collected works are crafted from real world experience and are unapologetically frank, covering a wide range of topics; everything from isolation and addiction to healing and the complexities of modern love, all delivered with bitter honesty and a vunerability you can really feel is woven throughout the record.
The release builds on the successes of her earlier works, 'Therapy Sessions 77' and 'Lover Loner EP' that were released in 2019 and have been described as 'phenomenal talent' by the BBC. During that same year she also picked up a nomination for a Welsh Music Prize and has appeared at festivals such as Reading, Leeds, Boomtown, Outlook and BBC's Biggest Weekend. All of this has culminated in the entirely self-produced, featureless EP that demostrates her individuality and more importantly her one-stop-shopness, it's all very impressive. So the question is, was it any good?
'…I felt alone, bullied, judged, isolated and neglected by the very people who preach the opposite message of acceptance, love, care and forgiveness. I went back to substance abuse and self destruction.. I lost myself and everything around me. One thing I learnt though, is you can't have flowers without the rain…'
These are the opening words taken from the official video for the single 'Venthouse Suite', a thought provoking number that blissfully shifts between dark and light tones, conjuring up silky smooth landscapes and delivering a clear statement, "Silence Kills", one of the many conscious messages communicated throughout the EP, atop of delicate production.
Many of the songs feel like spoken word, with Deyah blending her beautiful singing voice with laid back rap and isn't scared to drop double time bars in the middle of such mellow vibes. This is demonstrated on 'Okoposire', a great track with a sharp groove sample fashioned through the second half of the song and accompanied by lovely kicks. 'Planet X', is a rousing fusion of deeply heavy bass lines and strings, with strong vocals and playful chat. Another track worth mentioning is 'Ciao', which has an uplifting bounce, scattered with relentless wordplay that easily transitions into soulful harmonies.
She goes in on every entry on this release, it's a well rounded piece of work that stands her in good stead for any future album she might have in the works.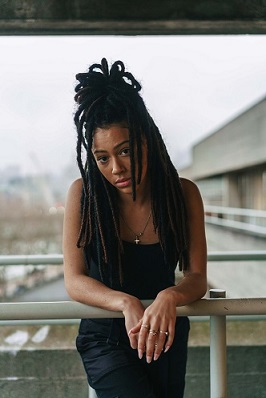 As the debut release for the record label, this is definitely an exiting project to open on; the production, wordplay and rich, exuberant content speaks for itself, carving out an interesting niche for an artist like Deyah within an already oversaturated scene, this feels fresh.
This EP is for those who prefer their Hip Hop on the soulful side, with consciousness, raps that talk about real world problems and pure late night cool. A highly impressive precursor for what will no doubt be an interesting journey for this multi-talented artist.
'Care City' is out now on iTunes and all digital channels, grab your copy now for a truly different type of ride.
Words by Theo Specone