Middlesborough based, Teeside rapper (and producer) Leddie MC releases her second EP 'Born of Stone' on Elegantly Ugly, an umbrella brand used by herself and Smoggy previously to publish their music, starting way back in 2013 with their debut 'Sorry We're Late'. The EP follows the success of her 2017 album 'Raise a Glass' and the more recent single 'Those Were The Days', featuring Genesis Elijah and Greg Blackman. The 5 tracks (6 on the CD and bandcamp only) on the release are a relentless, unapologetic barrage of socially and territorially charged commentary from the veteran. As well as releasing a vast body of work, she has also featured on BBC Radio 1, BBC 6 Music and performed live extensively, including events like Twisterella Festival, Evolution Emerging, Music Box and Stockton Calling, among others. She previously supported the likes of Sage Francis (Epic Beard Men) and The Game, appearing in his now infamous no-show event at Teeside University, she also counts Chuck D as a fan. Impressively, Leddie produces all of the tracks on the EP apart from the bonus track remix of 'Trust The Process', which is handled by SVNTY6.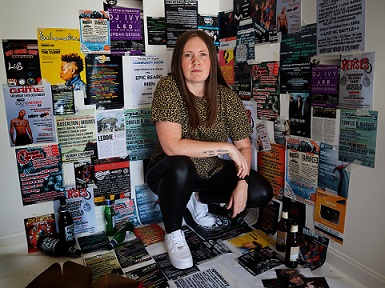 Leddie is known for her undulating technical rhyme pattern and the EP shows a true return to form, where she effortlessy blends words and beats of her own design into a cohesive mixture. It covers topics like sexism, grief, working class struggles and making it in Hip Hop, there are lots of well developed ideas here. Clearly she has the right weapons of choice but how did the EP actually play out, let's delve deeper..
The EP opens with tituar track 'Born of Stone', a very soulful number to start with, featuring warm vocals from LKP set against gritty bars and light keys that harmonize on a lovely hook, great stuff. 'Make 'em Like You' features a full ensemble of live musicians, piano, bass, drums and guitar fill this track full of energy, with Eve Conway lacing some flavour throughout the hook, complimenting Leddie's raps on this truly organic entry. 'Trust The Process', is a life lesson, where she delivers some sound industry advice after many years of living in its sometimes unforgiving confines, however the message is clear, 'Have Faith'.
'I Don't Think You Hear Me', has double time bars sitting atop of dreamy electronics and crashing percussion, 'Where Were You?' follows suit with downtempo, neo soul flavours and features cuts from ADS, really nice contrasting sounds across these two.
"..I broke free from the chains and acted on the hunger I'd honed, they had me fighting for dear life as I was clung to the ropes, drilling holes in my ship till it sunken the boats, I'm catching bullets in my teeth to protect the lump in my throat, I prepared for the worst cos I failed where most of them hadn't, I was throwing rocks at the glass ceiling in the hope that it smashes, soaring way above, performing a whole host of dramatics, they watched me crash and burn but never knew I'd rose from the ashes.."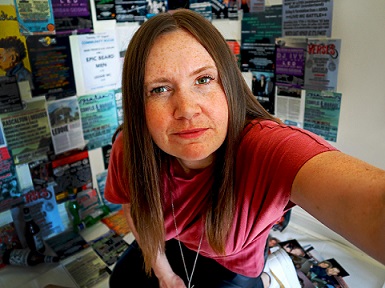 "..You say yes to every show, every humble dime you're offered, the funny thing is the door sales never come to line your pockets, you realise that you're broke and start to undermine your losses then perform for the f**k of it and wonder why you bothered. Hung out to dry by the truth seekers and bohemians, battling amongst the blood sucking leeches and the deviants, talk of up the levels, every song is deeper than the previous, don't take my word for it I'm just speaking from experience.."
This EP is recommended to anyone who enjoys a refreshing vista of organic Hip Hop sounds, filled with a storyboard of experiences and expertly delivered by a seasoned rap Teeside lass. Leddie has really carved out a corner of the culture and has had fun doing it, putting together interesting spoken word combinations on well crafted home grown beats, something that has become par for the course, definitely one to watch.
'Born of Stone' is out now on all digital channels, it's also available on limited edition CD, which contains an extra bonus track, grab yours now!
Did you like the album, what else are you listening to? Tweet me your thoughts.
Words by Theo Specone