On a warm Spring Evening, there are few better things than a couple of drinks in a quiet Soho pub…. However, when myself and Nikesh caught up with Kung Fu host, and Freestyler extraordinaire, Mystro for this interview it was hardly quiet, so Mys-diggi had to calm the noisy crowd, and even dragged along a couple of guests too (Yungun and Mr Thing, though their partaking was limited to drinking beer. Plans were cemented for future interviews with both…)
But it's all about the Mighty Mystro…….………
Nikesh: Right first question; So who is Mystro?

Mystro is me! From Natural Born Spitters…….. I came and got known about 1999, erm …. with my first single, "Kiss that Ass Goodnight", that came out on Deal Real records, with the b-side done with Jargon & Skinnyman. So, basically I made my name through open-mics at all the jams, trying to conjure up my own style, and people kinda recognised me from there.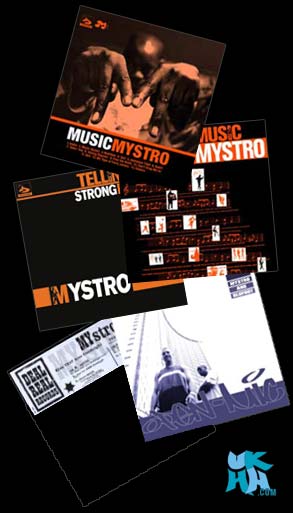 N: So what would you say your rhyming style is?

RAW!!! It's witty & wild….well that's what people tell me!
N: What was your first record like?

A straight battle record. I was just trying to let the rest of the MC world know that I'm a force to be reckoned with.. Ha ha ha!
"…Do you ever go on the UKHH forums? … No, but I've heard about them though…"
N: So would you say you're more of a battle MC?

Me, I'm more about entertaining people, as opposed to trying to change the world. You know what I mean……not trying to teach people stuff they already know. Most of the stuff I come up with comes from me…….. I don't read no books, or watch movies to ………you know get inspiration from it. I just conjure it from myself, and come up with my own concepts, and work it from there. My root is entertainment. But if I'm being serious, then it's more likely to be to take people away from their worries.
N: Do you ever go on the UKHH forums?

No, but I've heard about them though.
N: What are the rumours then?

Just that people are really deep. Either they ain't got a lot to do, or they're really passionate about it. That's the rumours that I hear….ha ha ha
N: I'm guilty!

Ha ha ha …. Right where we at then?
N: How long have you been rapping for?

I've been rapping for about 11 years. Basically I started off when I was like 13-14. Because I was like learning Masta Ace's lyrics, rewinding the tape, and writing them down to learn them, and my friend was like, "Raa, why don't you just write your own stuff?" So I was like "write my own? Raa ok then, I'll try." And I did, and grew from there. So I mixed a bit of whoever I was influenced by then, and tried a bit of Ragga and Jungle, but my heart was in hip-hop. I just tried to get my own style, and to make it accessible to everyone in order to make it public….
Lingo: So do you remember your first battle?

Pfff…………..no. My first battle was in someone's bedroom with nuff of us. I've had some funny-assed battles though, but can't really remember the first one……
L: 'Coz there's been so many?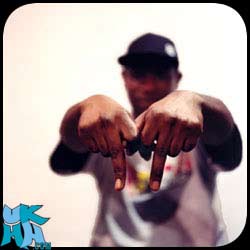 Yeah, there's just so many.
N: So what's your most memorable one?

For me? Probably the one with Al-Cid………..where was it………oh yeah Camberley. Mainly because I'd never battled an American before, and because he'd had stuff out, and was of a calibre that I thought I'd loose. But he wound me up so much that I was begging for someone to go up there and battle him. In the end I had o go up, and it just so happens he wasn't as good as I though he was. When it was time I had to stand up, I was like "He ain't that good!", and I won. It weren't a bias thing, where all the crowd was like, "He's from the UK, let's make noise for him." They were actually listening to what we were saying. That was good.
N: Have you always been Mystro?

In terms of rapping, yeah, but my street name is BK, so that's what a lot of people know me as.
N: How has the scene changed from when you started, to how it is now?

Well back then I didn't really know about the UK scene, I didn't know there was a UK scene at all, other than Silvah Bullet, Hijack & London Posse. I just listened to my friends records. Redman, K solo, Masta Ace…..that kind of era….. Just after Ice Cube left NWA, and did his solo stuff. That era. So the scene was really an American influenced one, so I never took it too serious, coz there never really was a UK scene. Just did it for fun. The scene now is serious, people are believing the scene, and people are putting their money, and faith into it. So people are making it look a lot more better, and the sound is a lot phatter, all that kind of stuff. Basically the scene has got its head screwed on, and that's down to experience……………. Back in my day…Ha ha ha!
"…I can listen to anything……maybe 20 mins of Drum and Bass, 10mins of Garage if I'm drunk…"
L: So what other music are you into?

Everything. Mainly old soul and funk, but I can listen to anything. Basically hip-hop is my love, so I can listen to that 24/7, but then I can take maybe 20 mins of Drum and Bass, 10mins of Garage if I'm drunk…
L: No way!

Ha ha ha ha ha…things like that. Otherwise it's just old soul and funk. Old breaks and stuff, cos that's the real music, but even so there's a few modern artists who I can listen to…..
L: Like who? You into the more modern stuff, funk and soul?

Yeah, I mean I'm into people like Alicia Keys, who make music the way it was made back in the day. Jamie Cullum, people like that. Like up-to date versions of what was made back then….stuff that is timeless.
L: How did you hook up with Kung-Fu?

Sarah Love. She got me hooked up with Kung Fu. I say that because she was dealing with the promoters (Charlie & Leo) and was like, "look if you wanna make this more successful on a hip-hop level, then you need to bring these guy's on board." That was Harry and Mystro. I knew Harry from meeting him at Deal Real, at the open-mic's. It's funny though, cos we lived in the same area, but because of the age difference, we didn't really know each other.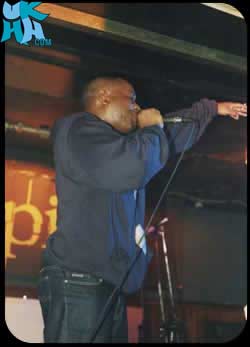 L: You used to go to school with him?

Yeah. He was in the 1st year when I was in the 5th year.
L: So you used to beat him up?!?

Nah…..ha ha ha…… NAAAAAAAAHHHHH! Not Harry………….. So yeah, that's kinda how it all hooked up.
L: So do you prefer being the hype man at Kung Fu nights, or just doing all nighter's like the Extended Players nights?

To me I don't look at it like that. It's the same thing, apart from at Kung Fu I get a break whenever shows come on. I mean, if the night is really good I don't mind staying out there all night…….I mean, with the Extended Players they play really well……….. (looks at Mr Thing)…
They play REALLY well………ha ha ha ha……
Mr Thing: Say again?
Mystro: They play really well as well……..yeah, The Extended Players…so erm…ha ha ha!
Mr T: Ha ha ha ha
L: Three times!!

Mr T: I'm sorry!!
M: Yeah, so I don't really mind as long as the crowd is with it, you know? But like, if the crowd ain't with it, its hard work to be out there, and its one of them things……With like Kung Fu, don't get me wrong I like to go and have my break, you know, have a little smoke break……….a little 20min blaze….that's why I might come out and my eyes are smiling a bit more…..ha ha ha.
"…UKHH has always been a bit moody & grey like the weather, but now with global warming, its so sunny people are livening up!…"
N: Was it a conscious decision to wait a bit before releasing "Telling You" & "Music Mystro", and how did you hook up with Lowlife?


I don't know if it was a conscious decision, it was more like it's about bloody time mate! I think there was a few things that got in the way of it all, and it was about a year delay before it came out. That's why "Telling You" was released, cos it was like, I should have already released a lot of stuff by now. But I wanted the vinyl to be loud so only put like 4 main tracks, and then a 12", and for the people who ain't got vinyl, do a CD.
L: So what input do you get with the producers? Because you've worked with a lot of them, and what do you get out of each one, having worked with Blufoot, Harry & Braintax?

With Blufoot's one, that was a beat I wanted to work with from ages. I was like I know I'm gonna use this for something, no doubt. That was….the beat was there and I had the idea, so we'll do it like that. With Harry (Love), the title track, it was the same thing, he came up with the idea for "Music Mystro". He had the sample, and was like "Why don't we call it Music Mystro then?", and that was a title track. With Braintax's it was a case of he had it, and was like, " I think you can deal with this." ……….So its kinda like a 2-way thing.
L: Yeah, because all three have got really distinct characteristics, yet you manage to deal with all their styles.

Yeah, they've all got a feel that isn't what's usually out there, and is a little different. So everybody knew it was gonna work……With Rawdog, I asked him. I asked Louie, cos we used the beat for his mix-tape, and when we do it live, it's like……raaaa…we need to do this on a proper scale.
L: So did you enjoy working with the live band too?

Did I like it? Yeah, yeah, yeah. Definitely.
"…I just like beats that grab you. Where you listen to it, turn it off,….you know. It sticks in your head…"
N: Do you plan to produce any of your own beats?

Do I wanna learn to produce? Yeah…..One day!! ……….When I've got the time to get into it, because I'm working with a lot of people that are doing it, so rather than waste it, I better start to learn it.
L: Is there any producer you want to work with?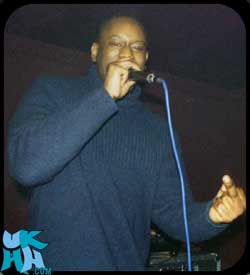 I mean Mr Thing obviously…. Ha ha ha. Out here,……..Joe Buddha….ummm….
L: The P-Brothers?

Oh, yeah, yeah, yeah, yeah, yeah, yeah. They're pretty nice.
L: What about in the U.S?

I'd really like to work with Jay-Dee, Madlib, all of the Stones Throw lot……an Wajid from Slum Village… and obviously Eric Sermons, Premieres, Dre……you know?
N: What do you look for in your beats?

I just like beats that grab you. Where you listen to it, turn it off, listen to something else, and you can still hum it….you know. It sticks in your head. Mainly, up tempo stuff. If its slow it needs to be sinister, or have a reason for it to be slow, but its still got the groove on it. But I like to be colourful.
L: You mentioned Jargon earlier. Have you got any plans for some Natural Born Spitters releases, or stuff with him?

Yeah, we got an MI5 12" out later this year, starting with Blufoot's album, and their track on it….that will be a 12". and the flip will be a track with me and a guy called Youngblood.
"…Have you mastered Circular breathing? … Ha ha ha…..no I breath through my ears……I've got gills!…"
L: What about Faith SFX, you still working with him?

Yeah, well that was the beginning…………when I start doing tours I'm gonna take him along, make sure he gets to shine. Cos we worked together on a tour for JD Sports, and from there I wanted to work with him, but he has a manager….and all that politics.
N: Marmite – love it or hate it?

Marmite? I love it when I'm hungry, if I ain't hungry I'm not on it. I'll eat nearly anything when I'm hungry.
N: What's next for Mystro then?

Next? A collab with Youngblood, Verb T and Harry Love called "Surprise"………on the B-side is us again with a track called "Live from London." And watch out for the video, cos there's a surprise on it. Then there's a feature with Junior Reed………..and Rodney P's album, I'm featuring on that.
N: When's that coming out?

I don't know. Is it coming out?
N: Plans for a Mystro album?

I just gotta make time for it, but I've been working on some stuff for it already, but now the main thing is the Natural Born Spitters E.P, and some mixtapes, and street stuff……….trying to fund our own music and things.
L: So Who's up-and-coming then in your opinion?

Youngblood is good…….there's a guy called Lo-Key, Ransom Badbones from Taskforce, who else………TL from Liverpool. Freestyle Master from Scotland. That's about it….some I was feeling but I can't remember their names.
N: What makes a good rapper?

Originality…..skill. Content, and stage performance……….And being able to do it on stage and in the studio. Some people are really good in the studio, and bad on stage, and visa versa, or he's wicked on stage, but his music ain't all that.
L: That's something that comes across with you. You're able to keep the crowd entertained all night, and the stuff you've released also has that vibe. Is that something you strived for?

Yeah. For me, an MC can do it all, and deal with it all. You always strive to perfection with the party side of things, and freestyling. There have been times when I've messed up, and had to freestyle it out and no-one noticed. Other times, they've noticed, and I still get props for styling it out…ha ha ha.
L: Have you mastered Circular breathing?

Ha ha ha…..no I breath through my ears……I've got gills! Ha ha ha. It's all practice. Extreme training pays off… some of the stuff we used to do…… rapping with the music up as loud as it goes…..

N: Will UK hip-hop blow up?

Only if it grows in this country, and people allow it to grow. The majority of the country and the world to like it, and it is still growing, which is good. It needs to be more intriguing to get in to, and needs to be more accessible. It's always been a bit moody & grey like the weather, but now with global warming, its so sunny people are livening up! Ha ha ha………we need to get a few more women involved, and lightened up…….make it less serious. Only recently people have opened up, and letting stuff like Jay-Z get played in underground clubs……cos it gets the ladies booty shaking, and that's all good……
N: Who were you're influences then?

Err ..Chuck D, Masta Ace…Redman……Black Thought….Devon the Dude….Snoop….Scarface.
N: Shameless plugs?

Look out for Music Mystro on Lowlife Records, shout to Extended Players, MI5, Dupa Star, MKD, Blufoot….One love to my family, to my mother.
N: Anything for Mr Thing to say to UKHH?

Mr Thing: Ha ha ha………err….yeah actually…Promoters, stop putting "Scratch Perverts" after my name on flyers, I'm Extended Players now. Thank You!
M: For real, stop putting it after Harry's name too.

Mr T: Yeah, we're trying to shake that.
M: You gotta scratch that perverted ness…
Mr T: …ha ha ha, I don't wanna promote them anymore! I ain't even seen them in years.
M: Yeah, we're trying to be politically errect……….ERRECT? Stick that errection………

– Nikesh Shukla & Lingo