Photography by: Quintin Perkins
Fusing gritty, East Coast energy with the wandering syllables of contemporary artists like Earl Sweatshirt or Detroit's Zelooperz, New York's Rhakim Ali practically occupies a generational timewarp on You Should Be Sorry. Both coming across as an opportunity for the rising name to prove himself and as a career-defining coup de gras in terms of structure and polish, Rhakim somehow manages to succeed as an underdog and veteran simultaneously.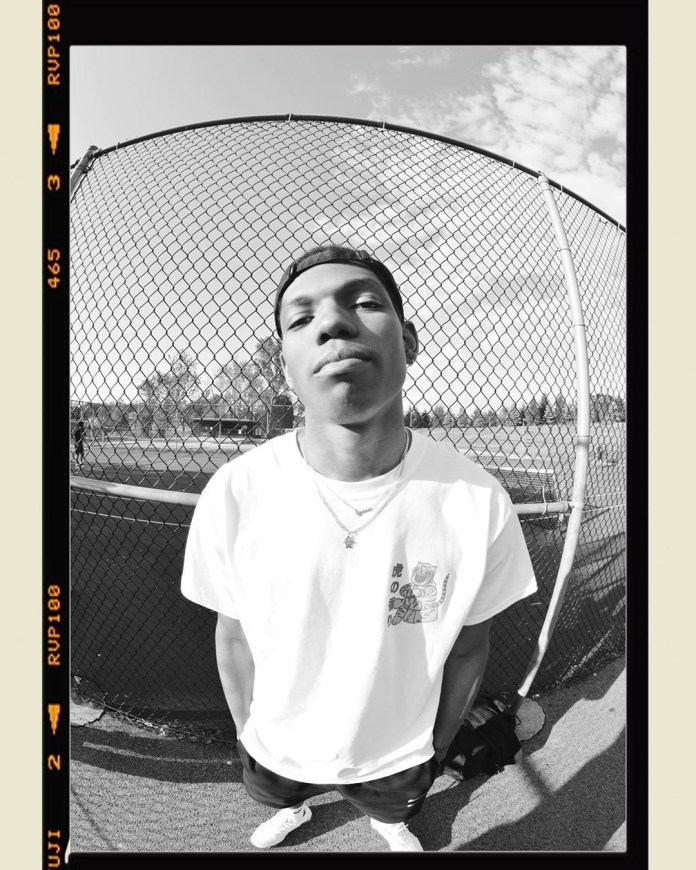 Dropping on London-based international label Soul Tapes, which delivered the similarly box-defying sonic insights of Clbrks earlier this year, You Should Be Sorry arrives at a time where drill, trap and Earl Sweatshirt-esque meanderings have audiences on both sides of the Atlantic and such crossovers increasingly make sense. The decision to launch the project on vinyl is thus particularly fitting here, tying together the generational dualities that underpin Ali's distinctive approach. Dancing between eras and styles, Rhakim comes across first and foremost as a rapper, resting on linguistic prowess and mastery rather than playing into particular trends (the lyrics "so ahead of my time I had to rewind it back" ring evermore true here). Only a couple weeks ago he dropped visuals for the track 'For Those Who Need It' completely separate from this project's promo run, sharing his personal experiences in verse amidst the global upsurge in the Black Lives Matter movement and, in doing so, expressing an intimate relationship to the craft of rap itself.
It is this dedicated versatility that really sets You Should Be Sorry apart- as the dreamy, free-flowing 'Traffic' cascades into the high-impact, trap-inspired 'Legends Never Die', or as the practically lo-fi instrumentation on 'Sad2CU' contrasts with 'Immortal''s outright drill-like energy and kicks, there seems to be no limit to what Rhakim can flow over. Beneath all these morphing soundscapes, however, it is Ali's outstanding production and rhyming ability that really ties the project together, twisting and turning through a kaleidoscope of contexts and concepts without missing a beat (or breath). Second track 'Traffic', for example, is a glorious display of pared-back looping instrumentation and uncontentious flow delivery, carried by a flow so natural it's hard to believe it's not freestyled altogether. Ali's skills on the buttons are by no means secondary, though, with one of his instrumentals accruing over 2.7million views on YouTube and an ability to switch things up being abundantly clear from his previous release Devil Don't Sleep last year.
With its almost hour-long runtime touching on a whole range of notes and emotions, as well as very little reliance on features (or outside involvement at all, for that matter- given that even the cover art is self-produced), Ali seems like he has something to prove on this project. Indeed, his personality is practically stamped into every fibre of You Should Be Sorry – from the thick East Coast accents brandished proudly on 'Resevoir Dogs' to lead single 'Try III''s uplifting, from-the-bottom lyrics ("when shit got cold, I wore a lot of layers"). Meanwhile, visuals for 'St. Elmo's Fire''s depict Ali on the block or in corner stores and very cinematically walk the listener through his experiences of growing up in Albany, New York- with rapid, overlapping piano keys precariously placed on a knife edge, this track almost comes across as a cautionary tale of the trappings of youth. Balancing all these outstanding creative features without making them compete with each other is a significant achievement in itself, there is an impressive synergy between the lyrics, production, personality and flow patterns that Ali curates on this project that extends far beyond this early stage in his career. Balancing all this creative diversity is a significant achievement in itself and, for all its versatility, You Should Be Sorry still manages to stay rooted in Ali's individual perspective- be it over trap, boom bap or drill, he remains unashamedly New York.
With Ali coolly locking eyes with the camera on the cover and the title You Should Be Sorry confidently confronting the audience, it is hard to feel that these overwhelming displays of creative energy aren't directly addressed to the listeners themselves. And, indeed, with talents so diverse it is almost scary and so consistent it's enviable, by the end of the project I, for one, definitely was sorry I hadn't heard of him sooner.
Support Rhakim Ali's latest project You Should Be Sorry on Soul Tapes HERE for your chance to feel sorry too.