Some heads in the UK scene keep a constant prominence, right at the forefront of the scene, occasionally though, you can hear a low rumbling from the underground of an artist who's got serious promise and is makin quite a lot of noise all on their lonesome. S.Kalibre is one of those people, Madrox caught up with him for a little chat about Hard Livin, what he's up to next, and life in general…
First up, welcome Mr.Kalibre….Would you care to tell the lovely folks @ ukhh.com who don't know you – your name, where you're from, and what you're about?

Yep, my name is S.Kalibre, I'm from a place called Medway in Kent, I'm part of a movement called Hard Livin and I say what I see, I'm all about real hip hop music.
Right to it then, I've recently been wrapping my ears around the new mixtape 'High Kalibre' and it's got quite the roster. How was that whole process for you? Which tracks are your favourite and which artists were the biggest pleasure to work with on that joint?

The mixtape was put together because we didn't know where we stood with the label (Sin-Nombre). We wanted to drop the Hard Livin album (The Outlook) and were made loads of promises by the label which all came to bullshit in the end. There was a distribution deal set up with universal after The 'Oh Girl' track was released, but then the label just stopped all correspondence out of the blue and when we did manage to get hold of them it was more promises that shit was still gonna go through, but when you've waited 3 years to release an album you kinda just think fuck this shit, and you gotta hustle up the dough to do shit yaself. I know we're not gonna get the promotion or the backing that we could of with Universal but we're gonna grind, try to do shows, put mix cd's out, albums, singles, ep's the whole shebang but yeah back to your question the mixtape was quickly thrown together just so we still got product on the street, it was a pleasure to work with every artist on the cd because I feel it's full of the sickest underground cats you don't get to hear on the radio, I don't really have a favourite track from the mixtape but there's a few that get rinsed out but it depends on my mood at the time but people always come up to me and tell me there favourite tracks and its always something different.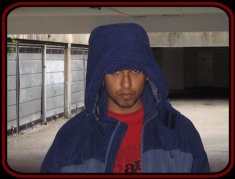 How did the Q-Unique track come about?

My producer Mike S also produces for a number of west coast rappers from the U.S. and he just came back from Cali with a west coast rapper who currently lives in the UK and goes by the name of Syndrome (Devious Records). Mike played him some of our stuff and he asked Mike if I would be interested in a collabo. Mike had been speaking to Q-Unique previously and he had already agreed to get on a track with Syndrome so that's how it all came about.
What's happening with 'The Outlook' LP and Hard Livin as a label in general?

As a label Hard Livin Entertainment is moving very slowly right now as 'The Outlook' is in its final stages (We've updated the album loads since when we were dealing with Sin Nombre). You will see a few mixtapes soon and there's a few videos in the pipeline but this whole label thing is hard work, the more you put into the business side the less you can put into the music and especially if your living where we are, the hip hop scene here is dry, there's loads of talent in Medway but everyone's waiting for their break but the only way to do it is to make your own break. That's my opinion anyway. But yeah 'The Outlook' soon come.
As a politically slanted MC, do you do anything to put your opinions into practise?

To be honest with you all I'm doing at the moment is providing for my son, my music, my reading, spending time with my girl. I'd like to get up of my arse and do shit but I'm either busy or high. I'm ready to throw bricks at the establishment but I ain't doing that shit on my own.
" I used to think the pen was mightier than the sword, but if you look at history everything's written in blood…"
How do you feel about universal ID cards, are they inevitable, or is there anything we as a people could do to combat them?

The British, as people, we don't know how to combat anything, we're getting these cards whether we like it or not, you can disagree, but they don't give a fuck, the only time they'll take notice is if people took to the streets. I honestly believe the media is the government's people herder. When I.D cards were first tabled, the papers were against them, but now the papers say if you don't want an I.D card you're a criminal or a 'terrorist'. You can write to your MP all day long but nothings gonna happen because its only writing, I used to think the pen was mightier than the sword, but if you look at history everything's written in blood. Wake up people, get your heads out the idiot box. Its time to fight for our kids and their kids. The piss takings gone too far it's gotta stop and threes no time like the present.
If you were interviewing you, what question would you ask yourself?

I don't know, I'd probably be asking myself why I'm interviewing myself and end up calling myself a sad cunt. hahaha seriously though I'd probably just ask what's in the pipeline for me right now, but I've already answered that.
Who influenced you stylistically, and who do you feel pushes the boundaries of music today?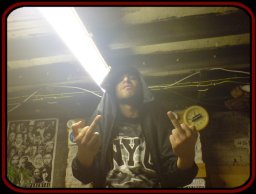 No one's really influenced me stylistically. I just do me, but I been into hip hop since I was 8 years old so its hard to say because I was into everything from Ice T to Public Enemy. I don't really feel anyone's pushing the boundaries right now for hip hop. I think its gone stale, There's too many people trying to do the same thing. We used to moan about UK artists sounding like yanks but now nuff rappers wanna sound like they come from London when they don't. People just need to be themselves and stop biting what they're seeing.
Has becoming a parent had any bearing or influence on your opinions of hip-hop and hip-hop culture, or indeed the content of the music you make?

Most definitely I want my son to have a healthy interest in hip hop but its so negative right now, Its not gonna do anyone any favours at a young age as the young are easily influenced by the entertainment industry. Anything that's hip hop and enters the charts at the moment is about personal wealth, guns, drugs and women. When I got into hip-hop Krs-One was one of the artists I paid a lot of attention to, If the artists of today were dropping the shit they do now back in the late 80's and early 90's, I don't think I would of got into hip-hop and I think hip-hop would of died out. I'll definitely class my music as conscience because I know the young kids are checkin for UK hip hop right now, I don't want people to look back at me and see me as a negative MC, I'd rather not have a deal and open a few minds than have a major deal and poison a million minds.
What inspires you first thing in the morning? Taking those first steps on a cold floor and into reality…

I'm inspired by what goes on around me, I like to analyse certain situations and events whether there close to home or world wide and just lay it down in my music.
What is your favourite comic book character? (if you have one) and why?

I don't really have a favourite comic book character, wasn't really into comics.
You're stranded on a desert island, and only allowed one meal a day, everyday. What would it be?

All I'm gonna say is they best have a Nandos on that island.
" I'd like to get up off my arse and do shit but I'm either busy or high… "
Back to the music, Can you tell us about any exciting new projects you have on the go? A video perhaps?

We're in talks with a few people we definitely will have a couple of videos out this year, Also Like I said 'The Outlook' is nearly finished. I'm already working on the second Hard Livin album, also I'm laying down material for my next mixtape and the Hard Livin Entertainment mixtape which is gonna feature some of the new artists on the label, we're just trying to do as much as we can. Also I've laid verses for other people from USA, Norway and the UK, I'm gonna concentrate more on the label after I got a few of the projects out the way.
Generic interview question part.1 – What's the best live show you ever did and why?

Damn that's a hard one, there's a few. One's that stick out in my head are Rawganics, Cambridge, with Skinnyman. The Forum in Tonbridge Wells. The Blade Guerrilla Tactics album launch party. Tap N Tin in Chatham. Few in Nottingham. I haven't really got a best 'best' one. I get a different vibe from different shows if you know what I mean.
Lots of heads were interested in the track you guys (Hard Livin) did sampling Curtis Mayfield, care to tell us some info on that? How it came about? What the exact sample is? Whether it was getting shipped around to majors or not?

We did that track for our second album it was called 'We people' I think, if its the one your talking about we've sampled a few Curtis Mayfield tracks and no its not going to no majors, were just doing us, we're not looking for a deal.
Generic interview question part.2 – Who's your favourite MC – alive or dead, and why?

C'mon man you cant ask me a question like that I got too many favourite Mc's but I'm really feeling Ras Kass, Q-Unique, Immortal Technique, Termanology, Saigon, Papoose, Canibus daaamn man there's shit loads.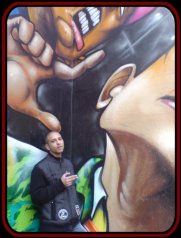 Sticking to a fairly recent topic, do you watch Big Brother? If not, did you still hear about the fuss involving Jade Goody's racist remarks towards Shilpa? What are your personal views on it all?

I don't watch Big Brother and I don't watch TV, I've heard people going on about it but I don't know much about the situation, so I can't really comment on it.
What would you say is your favourite kind of beat and why?

Something that grabs you straight away, I like them dirty head nodding beats. The kind of beat you hear and you know exactly what your gonna spit because it's touched or moved you. I like the Premo sound, Dre kinda beats, a few Kanye beats. I like working with Mike S because I can tell him how I want a beat to sound and he'll make it sound like I want it in minutes that's why we call him the magician.
Hilary Clinton has announced she will be making a bid for presidency very soon. How do you think she'll fair? Would you vote for her if you were American?

If I was American, I wouldn't vote for any of them, they just different wings on the same devil.
"when you've waited 3 years to release an album you kinda just think fuck this shit…"
What are you going to be doing at exactly this time tomorrow?

I'll either be at the gym, bunning green, writing rhymes or on myspace.
Lastly, any shout outs or thank yous you'd care to give out? Also, where can heads cop your new mixtape from exactly?

You can get our mixtape from most good underground supporting shops, or online at www.myspace.com/s.kalibre for the Paypal heads.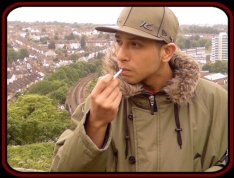 I wanna shout out my Hard Livin family, Mike S, Architech, Frisko Dan, Kynpyn, Jamie Digital, Gemini, Abstract, Urban Heights, Charlie, Blade, Everyone who's on the mixtape Junior Disprol, Apocraphe, Genesis Elijah, Syndrome, Q Unique, Bury Crew, Conflix, Troy Scalpels, Manage, DX, Baron Samedi, CLG, Word Perfect, Natty, Ironbridge,Redeye, Stig, Dr Syntax, Foreign Beggars, Kaan, Universon, Ali Bla Bla, Shortcut, Mike Menace & Mr Steel, Sabotawj Yo style, Soul Theory, Scoob Rock, Mr Menace, Big Cakes, Humark D Gritty, Skinnyman, Dap C, Buttafingaz, Task Force, K.O, Stag P, Kamzee, 289 Fam, Cross bone T, Jehst, Tommy Evans, Wolftown Committee, Cafe Recordings, Mr Montana, HHB Radio, UKHH, All the people buying and supporting our shit, all the producers that send me beats. Sorry if I forgot anyone. Peeeeace.
So there you go, plenty to look forward to, you can catch up with the latest on Mr.Kalibre on his myspace and the Hard Livin site respectively, I'd like to give a little shout also to Mike.S who helped me sort all this out. New mixtape review up shortly. Thanks for reading. Peace.

– Mad Rox